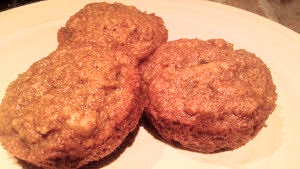 Oatmeal On Mondays

We often have leftover oatmeal and I kept wondering what to do with it. See, my family and I took the pledge to do Meatless Mondays. We are challenging ourselves to eat more fruits and vegetables and less meat.
To keep us on track, I make oatmeal for breakfast every Monday. This tradition began because I couldn't think of any other breakfast that didn't include eggs. However, after tense debate, eggs are not considered meat in our household anymore.
Although everyone loves oatmeal, we often end up with at least a cup leftovers. I felt bad about throwing it in the trash, so I decided to reuse it and make what our family calls leftover oatmeal muffins. We eat them for breakfast or in lieu of cornbread at dinner.
Ingredients
1 cup whole wheat flour
1/2 cup brown sugar
1 cup left over oatmeal
1 tsp cinnamon
1 tsp salt
1 tsp baking powder
1 tsp baking soda
1 cup chopped pecans (optional)
2 eggs
1 tsp vanilla
1/2 cup melted butter
Directions
Preheat your oven to 350 degrees.
Mix all ingredients in a mixing bowl. You can use a blender but my oatmeal usually has raisins in it and I like to keep them whole so I mix by hand.
Spray a muffin pan and spoon in batter by the tablespoon. Bake for 12-15 minutes or until muffins bounce back when you touch them. It makes one batch in a 12 muffin pan. I have replaced half the brown sugar and butter with a 1/2 cup of applesauce or a banana and that adds moisture and more fruit.